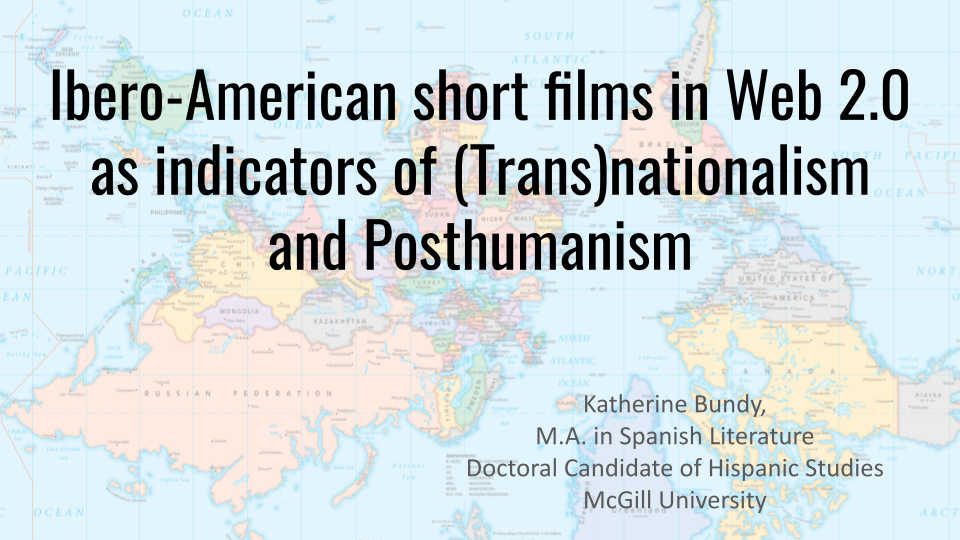 MY DOCTORAL DISSERATION:
Ibero-American short films in Web 2.0 as indicators of (Trans)nationalism and Posthumanism

This is a dissertation that is just as much about metadata as it is about short films. I discuss how content and form propel one another, inform each other and betray the other, and how these processes reflect the messy combination of human thinking and machine thinking in the Internet age. The implications for this across disciplines are vast, but my narrow point of entry into this discussion is in demonstrating how national labeling of short films associated with Iberia and Latin America manifests in Web 2.0, and why these metadata practices can affect the visibility of independent short filmmakers and producers.



I get asked a lot: Why short film? Why Web 2.0?


Short film is vastly underappreciated not only in scholarship but also in commercial theatres. If you cannot come up with your favorite short film, you are not alone! The reason for that is that short film has a distribution problem. Shorts are largely associated with student work and for serving the function of an industry "calling card" for filmmakers and directors.

What that means is that film festivals have become the main venue for shorts. I myself started a Short Film Festival in 2008 at a very dynamic moment for short filmmaking. Huge changes occurred around this time like the shift from film cameras to digital technology, the release of the iPhone and cellphones with video functionality, the creation of YouTube and Vimeo for user uploads, streaming and sharing, and the beginnings of social media and content creation across apps and platforms in which is the fundamental aspect of Web 2.0 versus Web 1.0.

All of these changes are part of what David Weinberger identifies as the Third Order of Information which essentially means that both humans and machines work together to organize digital objects and how they are found. Unlike limitations of space and labour from the past, the traditional rules of information organization don't apply. Suddenly, there is infinite space, infinite ways to cross-reference an object with linking and filters, and a never-ending downpour of information that can bury and overwhelm any said item. Thankfully, we have sophisticated search tools, and a lot of this boils down to one aspect in particular: metadata.

So, this is where my dissertation launches into an argumentative approach towards a more pluralized and networked way of visualizing the (trans)national processes of short filmmaking during Web 2.0.

Here's an example of a short film that demonstrates tensions of national content versus production:

Porque hay Cosas que Nunca se Olvidan actually broke a Guinness World Record in 2009 for collecting over 300 prizes in film festivals. The national label for this film is just "Spain." The film was made in Italy, with Italian actors by an Argentinean. The funding and distribution company came from Spain. So, the film is labeled "Spanish." How might this success story have been different if it had been labeled Italian? Argentinean? There are clearly tensions between economic influences, marketing, and national messaging.

I use cyberculture studies and global cinema studies paradigms to argue that while there is a lot of fear that the Global North will dominate and homogenize online life for late comers from the Global South (IE: "Other Internet"), the solution for this isn't necessarily an "erase and replace" model. To visibilize the economies and peoples involved in short filmmaking, more nuanced and networked metadata is needed, and the case of my dissertation, I'm looking specifically at national metadata.


This is where Jeffrey Pomerantz's take on metadata as "potential information" comes in. I basically want to stretch this potential as much as possible to unpack the fetishization of national-belonging in short film, especially as short filmmaking became more accessible online in the digital age.


Concerning short film.

Many theorists claim that cinema as we know it, is dead. While this proclamation is most likely alarmist, it is true that we've all witnessed a pivot of the cinema industry as a result of the COVID-19 pandemic. Film festivals have migrated to online formats. We're watching films and media on computer, tablet, and phone screens almost exclusively, and incentives to make (short) films without travel, without close contact, and with an increasing amount of animation and motion graphics in software is changing cinema. Localizing it and globalizing it further simultaneously. I have many questions about how this will turn out, but my dissertation takes a special interest in from which point this all began to unfold at an accelerating pace. If the third order of information is the paradigm, then metadata is most certainly the impetus.

︎︎︎Mapping Metadata


---
By Ibero-American short film, I mean that the short could be associated with either the region of Latin America or Iberia, or a collaborative production between the two regions which is a frequent case. I choose not to use "Hispanic" or "Spanish-language" since this excludes populations that are not majority hispanophone and the films that are made in those other languages.